Hotel Radisson Blu Style Vienna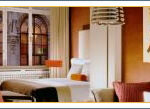 This is a boutique hotel offering the best of Austrian and Mediterranean cuisines from a relaxed restaurant and bar. The 33 rooms are fitted with Wi-Fi connectivity, air conditioning, and central heating. Visitors can also access the modern spa and recreational facilities. Rooms cost Superior- 229 Euro, Standard, 146 Euro, and Junior Suite-283 Euro.
This five star hotel is located close to the Kolmarkht and the Graben as well as the St. Stephen Cathedral.
Family Room
4-7 persons per room
Junior Suite with City View
3-5 persons per room
Junior Suite
3-5 persons per room
Premium room
3-5 persons per room
Superior Room
2 -3 persons per room
PARKING
Public parking costs EUR 42 per day
WIFI
Free wifi in the hotel