Novum Hotel Congress Wien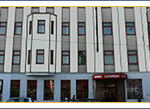 The hotel offers a traditional Austrian ambiance characterized by its culture, music, and cuisine. All its 75 rooms are soundproof and are furnished to provide ultimate comfort and convenience. The room is inclusive of breakfast and cost single-75 Euro, double- 88 Euro, triple-99 Euro and twin rooms for 78 Euro.
This three star hotel is located next to the south train station with its location offering great accessibility around the city, to and from the airport.
Standard Family Room
5 persons per room
Deluxe double/twin room
4 persons per room
Double room (one bed)
1 - 2 persons per room
Twin room ( two bed)
1 - 2 persons per room
Single room
1 person per room
Family room
2 - 4 person per room
RECEPTION
Reception service 14-hours
WIFI
Free wifi in the hotel
PETS
Pets are not allowed