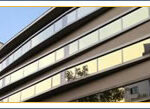 It is a new hotel with contemporary architecture and a very modern look. All the 52 Rooms are spacious and most have a balcony, internet connectivity, air conditioning and heating and round the clock room services. The hotel has a cocktail bar and a restaurant serving exotic cuisines. Rooms have an option of including a sumptuous breakfast; they cost attaché suite -109 Euro, presidential suite-299 Euro and residence suites- 129 Euro.
This five star hotel is located at the Beleverde Palace and is a short distance from the St. Stephens Cathedral .
Presidential Suite
2-4 persons per room
Residence Suite
2 person per room
Attaché Suite
2 person per room
Delegatate Suite
2 person per room
Ambassador Suite
2 person per room
WIFI
Free wifi in the hotel
PARKING
Public parking costs EUR 18 per day .