Garten- und Kunsthotel Gabriel City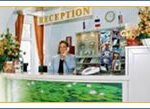 A single room at Gartenhotel Gabriel City goes for EUR 50 with a maximum of one person. double room with a maximum for two is EUR 70, Triple Room with three occupancy is EUR 85 and a Quadruple Room with Four occupancy is EUR 105. Hotel Gartenhotel Gabriel City offers a bicycle rental, shoe shine , tour desk facilities. There is also a wired internet offered free of charge, a garden, rooms for disabled, soundproofed rooms, family rooms, safety deposit box, parking, round the clock 24 hour front desk among others.
Gartenhotel Gabriel City is a 3 Star hotel just 15 minutes to the centre. It is located in one of Vienna's oldest shopping streets.
Superior quadruple room
for 4 persons
Double room Art
for 2-3 persons
Superior double or twin room
for up to 2 persons
Quadruple room
for up to 4 persons
Triple room
for up to 3 persons
PARKING
Private parking in the hotel
WIFI
Free Wifi in the hotel