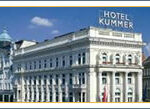 It is centrally located and offers excellent accommodation especially for the business traveler. The elegant restaurant, the welcoming lobby, and an amazing clubroom also enhance the hotel facilities. It offers conference facilities with up to date equipment as well as an air-conditioned banqueting room. All its 95 rooms are catered to by room services and are installed with modern facilities and large sleeping and living areas. The available superior double rooms cost 119 Euro.
This is a four star hotel placed between the Miliahifler Strasse and the Western train station.
PARKING
Public parking costs €19.90 per day.
SMOKING
Non-smoking rooms