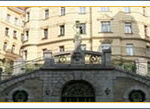 It provides Buffet breakfast free of charge wireless internet, public parking garage not far from the hotel, 24 hour Front desk, nonsmokers' rooms, designated smoking zones ,Family, Elevator, a safety Deposit Box and Heating system. Hotel Terminus is also Gay Friendly. Hotel Terminus offers the best room prices in the city of Vienna. It has a maximum of 45 rooms. A Single Room goes for EUR 38 with a Maximum Capacity of 1 person(s). The prices are inclusive of taxes and services.
This hotel is located near Fillgrdaer Steige and Mariahhifler, the main shopping street.
Quadruple room
for up to 4-7 persons
Triple room
for up to 3-5 persons
Double room
for up to 2 person
Single room
for up to 1 person
Single room with shared bathroom
for up to 1 person
PARKING
Public parking is available nearby.
WIFI
Free Wifi in the hotel