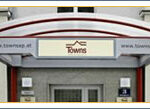 At Town Apartments , you will enjoy internet access, cable TV and DVD/CD player, a fully equipped kitchen with all the equipments lie the dishwasher among others items, living rooms and bedrooms and designer bathrooms. The floors are wooden and the furniture have a timeless classical design. Town apartments provides non-smoking rooms, family rooms, express check-In/check Out, heating, Allergy-Free Room, public and private spaces for non smoking and air conditioning. There is also a children playground, laundry and ironing service, fax and photocopying services. Wireless internet hot spot is available in all rooms. there is a parking nearby at a cost of EUR 19.00 daily.
At Town Apartments, no end clearing fee is charged. Reservations are very secure and all personal data is encrypted and processed in a secure manner.
Town Apartments is only a walking distance from the Hundertwasser House in the city of Vienna. It is located in the most important shopping streets and sights like the St. Stephens Cathedral, state Opera and the Strasse. These apartments have a comfortable view of the city of Vienna.
Executive apartment
with 2 bedrooms
WIFI
Free Wifi in the hotel