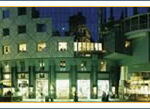 This five star hotel is located at the heart of Vienna city and is close to the St. Stephen Cathedral. Its rooms are elegantly decorated and offer an exemplary view of the city and the cathedral. All the 41 rooms are soundproof, are installed with modern facilities such as central heating and air conditioning as well as internet connection. Breakfast is served in the room and there is restaurant serving international and local cuisines.
Due to its location next to the Stephansplatz, it is an easily accessible hotel and offers a great start point for tourists.
DELUXE SUITE
2 person per room
DOME SUITE
2 person per room
COURTYARD ROOM
2 person per room
CITYVIEW ROOM
2 person per room
WIFI
Free wifi in the complete hotel
PARKING
Public parking costs EUR 45 per day .